I love local. A great addition to my city is Wildflower Artisan Collective which showcases and sells the artwork and crafts of local artisans. It is really amazing to see an organization that celebrates all things local and handmade! Imagine buying local items created from locally sourced materials; that is profound!
Recently I was blessed to be able to go to a local artisan event here in town that showcased over 50 artists from my area. The place was bursting at the seams with talent! I ended up being drawn to one beautiful piece from  Posch Jewellery Creations. I did not realize the meaning of my newly acquired moonstone ring until I got home to look it up.
Moonstone is foremost a talisman of the inward journey, taking one deep into the self to retrieve what is missing, the parts of the soul left behind or forgotten, then brought to light.
The Gemstone Dictionary offers a beautiful definition of the the moonstone and its uses. Most significantly it enhances psychic abilities, heightens intuition, it also aids in bringing the heart and mind into emotional balance easing the emotions that come with change. It can increase the fertility in the garden. The moonstone is a healing stone for the many phases of the life of a woman.
I was certainly thrilled with this beautiful addition to decorate my temple with.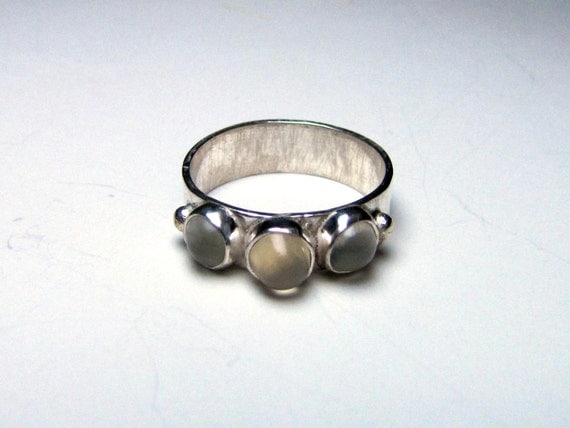 Buying local is a very powerful thing. Putting your money where the heart is keeps communities thriving, inspires creativity and unique expression, and has many benefits by increasing sustainability for your area.
Whether you buy from your neighbor or the church bazaar, attending farm markets or belong to a community supported agriculture box you are making a very BIG difference with your dollars. Get out there and meet your local artists and farmers. Buying local is a great way to show you care about your community. Get connected.